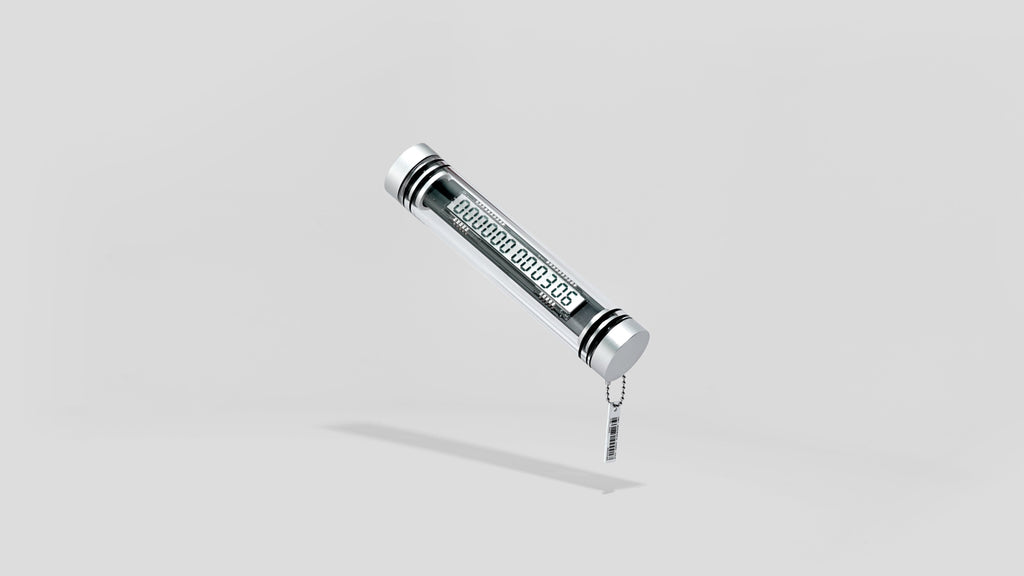 Time Since Launch
420.00
---
Orders placed after 2pm (NYC time) ship
tomorrow
*excluding holidays
"Fabulous, special timepiece - The design and feel of this timepiece is utterly beautiful and clear. Using the item consists of excited attention and freakout at the event unfolding -- in our case a neice's wedding (Time Since Launch was their wedding gift) as one readies to start the clock, then pulling the pin like it's the start of the Indy 500. Talk about tangible interfaces :) Such a purposeful and imaginative item. Whimsical and rigorous in every way. Just awesome."

- David C. (USA)
"Perfect! So excited that I was able to get one! Perfect for my son and his new wife.. They were shocked and cried."

- Cherise D. (USA)
It's time to launch your personal epoch.
Time Since Launch is a single-use, long-scale launch clock.

Pull the pin to begin counting for 1 million days, or over 2,738 years.
Use this very long-scale timepiece to mark the beginning of your epoch. It could begin when you get married, have a baby, quit smoking, launch a rocket, or on an ordinary Tuesday morning.
Your epoch is safeguarded within this unique timepiece designed and over-engineered to outlive you.

Suspended in a durable borosilicate glass tube and sealed with gasketed aluminum end-caps, the display shows days, hours, minutes and seconds since launch.
Elevate an otherwise arbitrary moment to super awesome status.
Wall mount for Time Since Launch made of bent aluminum with a glass bead finish.

Available for purchase with your Time Since Launch or here.
Customize your Time Since Launch with same-day laser marked engraving.
What's your moment zero? 
Time Since Launch ships in pre-launch mode. This rhythmic cycling through each display segment ensures even wear and tear up until launch time.
Pull the pin to initiate the timer.

NOTE : You can only do this once!

Pulling the pin burns your launch time into the chip's silicon, making that moment yours forever.
Time Since Launch is off the grid, both in terms of power and its ability to keep accurate time. Unlike your phone, it doesn't rely on a surprisingly fragile external multi-billion dollar timing and power infrastructure.
Made with precision machined metals, over-engineered and over-specified electronics, Time Since Launch will outlive you. This assembly of parts - from physical materials to electronic components - were selected with longevity in mind.
If anything ever happens to your Time Since Launch, as long as the chip is physically intact, you can recover your Moment Zero and transplant it into a surrogate.
Time Since Launch is made from machined aluminum endcaps and a durable borosilicate tube. The electronics are suspended and deliberately made visible. The enclosure is easy to take apart. If ever something breaks, you can easily identify what went wrong so it can be fixed.
Electronics specified for longevity and low power consumption.
Time Since Launch consists of only essential electrical components to mitigate potential failure points. Mounted on a matte black VT-447 PCB with gold plated traces, Time Since Launch has 2 chips, a few diodes and capacitors, a custom 12 digit LCD, batteries and 2 LEDs for launch time. That's it.
It draws less than 2uA (microamps) of current running at 3.3 volts. This gives us an energy usage of about 6.6 microwatts (millionths of a watt). 
A 150+ year battery life.
Yes, you read that right. 150 years. Version 2 of Time Since Launch ships with 2 x AA Energizer L91 Ultimate Lithium batteries. These batteries have a capacity of 3,500mAh, and a 20 year shelf life, which means they are guaranteed to have 95% of their original capacity after 20 years of sitting on a shelf.
To arrive at our 150+ year battery life estimate, we take Energizer's stated capacity of 3,500mAh and round down to 3,000mAh (to be conservative), divide by 2uA and then take off another 10% (to account for external factors). This gives us an conservative estimated run time of 150 years.
A real time chip with ±2.5ppm accuracy.
To keep time, Time Since Launch uses a low power real time clock chip with a temperature-compensated crystal oscillator that is extremely stable at room temperature. It can hold its frequency at less than ±2.5 parts per million (ppm). This level of accuracy is 10x better than a normal wristwatch crystal which, with an accuracy of ±20ppm.
If you were to shoot a basketball from a court in NYC to a hoop in Philly with ±2.5ppm accuracy, you'd miss by one foot.
Safely change batteries without losing time.
About 6 months before it is time to change the batteries, the display indicates your batteries are low. During the swap, backup capacitors keep the real time chip powered and running without losing time.
To change the batteries, pull the aluminum caps out of the glass tube to expose the battery holders. Pull out your old batteries and put in new ones.
Specifications.
Dimensions : 174mm (6.85") x 38mm (1.5")
Weight : 285g (10oz)
Materials : Anodized aluminum (6061-T6), stainless steel (303) launch pin, borosilicate glass tube with a 4mm (0.1575") thick wall, Buna-N o-rings, PCB and electronic components.
Ships w/ 2 x AA Energizer L91 Ultimate Lithium batteries.