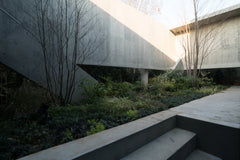 | | |
| --- | --- |
| Location | Tokyo, Japan |
| Design | CW&T and Point |
| Lighting | spangle |
| Structure | Ouvi |
| Completed | 2015 |
| Photos | CW&T |
This project was built to comfortably house 2-10 people.  We like to think of it as a small-population-explosion house. The oversized residence (for Tokyo standards) is broken up into cozy quadrants divided by the structural core which contains the elevator and stairs.
There are 2 primary bedrooms and 4 flex spaces to accept a range of population explosions.The main floor is also broken into living, dining, kitchen, and playroom quadrants. The floor's relatively low ceiling frames the rear yard as the walls extend out and hug the garden. One floor up are the bedrooms, flex spaces and bathroom. The stairs continue up to the glass bulkhead which opens up to a roof garden overlooking the surrounding neighborhood.The street facing facade is monolithic, shielding the interior from the noisy street.  The glass facade facing the back lets light pour in from the north. Skylights and balconies along the south wall scatter light into the bedrooms and bathrooms.