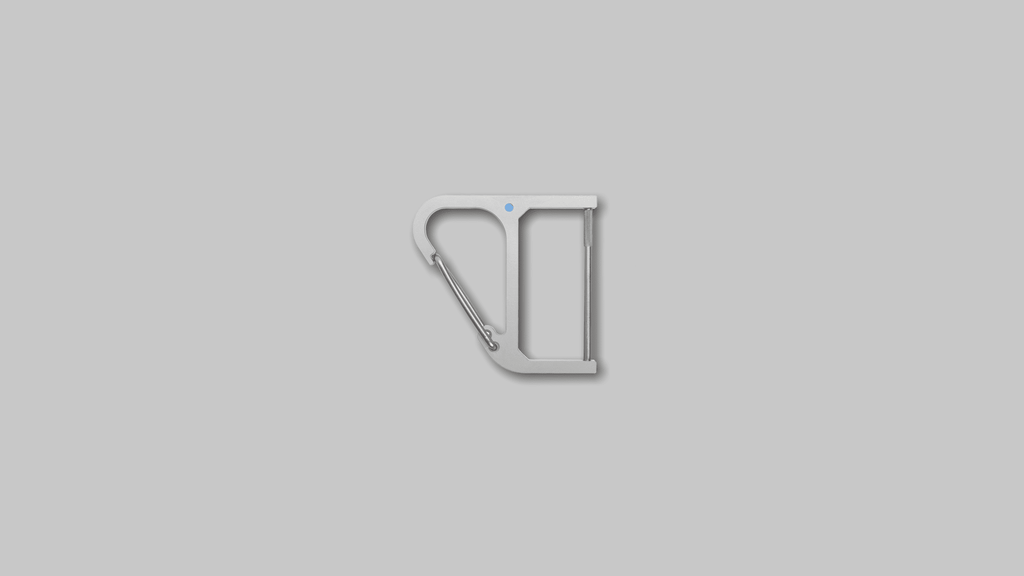 Key Wrangler
85.00
---
Orders placed after 2pm (NYC time) ship
tomorrow
*excluding holidays
"Rock Solid. This little guy is going to save your day. It keeps everything in place and the clip allows you to stow them where you need to."

- Benjamin C. (USA)
"Great for holding weird keys :D Any key, any shape fits. Super tough, yet fits just right in your hand, a belt loop, or on a water bottle. Get this!"

- Dieter B. (USA)
Available with a custom laser engraving, ships within 24-hours.
Key Wrangler is a key holder and organizer. It is designed with a built forever snappy spring clip and a post to keep your keys tidy and easy to access.
After a successful Kickstarter campaign, we have Key Wranglers in stock and ready when you are to organize your keys!
Key Wrangler comes in a variety of material + color options. If you love the feel and finish of raw metal, Titanium is a way to go. The brass + copper versions are also beautiful metals that will gain a unique patina over time. The cerakote color finishes are for you if you want to add some funky color or black/white to your life. As a side, the cerakote finishes are durable, but over time will wear and reveal the titanium underneath. We think it looks cool + rugged. :)
The knurled key post is designed to hold keys of all shapes and sizes in a tidy row. Most other keychains rely on split-rings, those impossible to open nail-breaking rings which force your keys into an unruly spiky ball.

The knurled key post is also designed to open and close securely with your fingers. A small nylon pad on its threads provides some extra grip to keep the key post snug and in place on the go.
- Heirloom quality key holder + organizer.
- Carry up to 17 flat keys or several odd shaped keys (like your car keys)
- Machined out of Titanium, Copper or Brass (take your pick!)
- Keys are attached with a secure, but easy to open post.
- A spring gate lets you quickly clip and unclip your keys to stuff.
- Thoughtfully designed shape that lets the keys hang naturally.
- Made in the USA 
We made a bajillion prototypes before we landed on our final design. Every dimension on Key Wrangler has been carefully considered, down to the millimeter.
And YES! Key Wrangler opens bottles too...
*brass and copper versions are softer metals so they may deform if you use them as bottle openers.
The knurled key post has a flat screw head to tighten or loosen with a screw driver if ever you want to crank it super tight and open later.