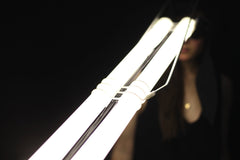 Face Normal is a head mounted fluorescent light fixture. Two T-12 fluorescent lights float in front of our faces like an extrusion of our eyes.
AIGA asked us to design and build a piece to light up their runway for their Bright Lights awards ceremony. We thought it was a perfect opportunity challenge ourselves to build a wearable battery powered fluorescent light. So this is what we came up with.
3D printed parts grip onto the T-12 fluorescent lights. Four aluminum tubes extend from the lights and are secured to our custom leather headgear. In the back, we have 2 ballasts, 2 hefty battery-inverter units that convert DC to AC power, and a bag of metal BBs to counterbalance the weight of the lights.
Special thanks to Seth, Celina, Fischer-Borden, Ken, Su, Amy, Allie and all the hard workers at CSA!
Check out Face Normal featured in a music video, Sand Dollar Dreams by Fake Plants.