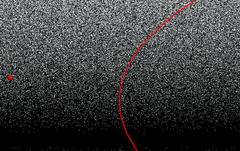 Dena from WOVNS asked us to design something for their batch production woven textile system.  More about their system here.
We designed an app for ourselves to take advantage of the pixel level manipulation we could achieve with a Jacquard loom. You can get some Digital Ombre yardage at WOVNS.com.
Our simple little app has a curve with a few control points to adjust the noise level from top to bottom.