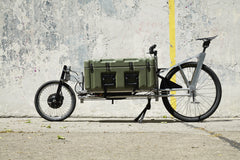 The name comes from Penny as in penny farthing and Pelican as in Pelican-Hardigg military medical case.
This style cargo bike (which is the only one that we know to exist) has pedals attached to a freewheel hub, so there are no gears and no chain. This allows the cargo area to span the entire space between the two wheels.
The front hub is a 1000W motor giving this thing a top speed of 23mph with a full load (80lb+). Since the "gear ratio" is high (because of the direct pedal drive), top speed without the motor is 4mph (not very fast). The motor does most of the work on this bike when riding at normal - fast speeds.
All the components are custom machined (no welds) so the bike can be disassembled and the geometry adjusted if needed. Shown here without the cargo bin.
If you're interested in buying one, get in touch! Lead time is 4-6 weeks and the price is ~$8000 (price does not include freight).